One-day symposium "Singing and acting the document"
Exploring the relationship of documentary material and its music-theatrical treatment
16.12.2016
Host: LMU Munich / Theaterwissenschaft in collaboration with the International Doctoral Program (IDP) MIMESIS (LMU) and the Center for Advanced Studies (CAS) (LMU)
Convenors: Bella Merlin and David Roesner
Date: Friday, 16 December 2016, 10 am until 4 pm
Venue: Theater HochX (Entenbachstrasse 37, 81541 München)
Admittance: free

Programme and Biographies (PDF, 541 kByte)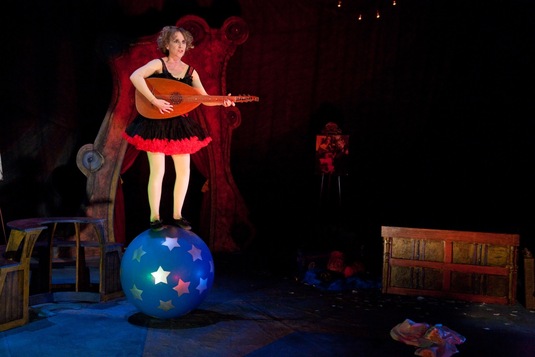 Bella Merlin as actress Tilly Wedekind in her biographical one-women show "Tilly No-Body"
from 2010 (with sound design by David Roesner). Photo by Kristin Slipson.
In March and December of 2016, Prof. Bella Merlin (UCA Riverside) holds a visiting fellowship at the Center for Advance Studies (CAS) of the LMU Munich. Merlin is an academic, actor, writer and director and has explored the relationship of document and dramaturgy, verbatim material and delivery as an actor, language and musicalisation in a range of projects and writings.
During her fellowship, Prof. Merlin and Prof. David Roesner (Theatre Studies and Music-Theatre, LMU) will investigate the relationship between original interview material and its staging. In particular, they will explore the ethics and aesthetics that musicalisation can have in relation to the speech patterns, vocal inflections and rhythms of their interview partner from across three generations in three different countries.
To discuss this project and contextualize it in a range of related studies, theories and artistic practices, we have invited scholars and artists to explore the relationship of documentary material and its music-theatrical treatment.
The working language of the symposium will be English.
Downloads